Choosing the Right Rewards Credit Card
Getting paid to use a credit card is an in intriguing proposition, and that's what rewards credit cards offer – at least at first glance.
A deeper dive on rewards cards does reveal some great perks and benefits, but it also shines a light on user obligations credit card companies don't want you to see and could wind up costing you significant cash.
Case in point. Card companies will tell you they're offering an abundant array of rewards for card users (especially new card users.) What they may not tell you is they'll charge you more for using the card. 
A 2019 study by CreditCards.com [1] noted that rewards card issuers have accelerate fees and charges tied to their cards. Card providers are "making it more expensive to miss a payment, take out a cash advance, and transfer a balance," the study notes. "Not to mention, credit card companies are justifying increased annual fees in exchange for greater rewards."
RELATED:
Getting to "Yes" on the Right Rewards Credit Card
Aside from rising usage costs, there are great deals on rewards credit cards these days, especially as more people are stuck at home during the pandemic and shopping online and ordering takeout meals (two highly common uses tied to rewards credit cards.)
Structurally, high rewards card usage makes sense. After all, the more you spend using a rewards credit card, the more cash back and rewards points you'll accumulate. The key is using card wisely and not accumulate a mountain of debt in order to earn card rewards.
RELATED:
As with any personal financial tool, knowledge is your best ally in getting a robust deal on a rewards credit card.
"Rewards credit cards are cards that provide cardholders with rewards for each dollar they spend," said Barron Damon, founder of Business of Life CC, a travel services consultancy located in Morrisville, N.C. "These rewards can take several forms, including cash back, airline miles, hotel rewards, or several other benefits."
Damon, who regularly advises travel consumers on credit card usage, notes that rewards cards have a variety of benefits, but some of those points are more in demand than others. 
"Many people tend to lean toward the accumulation of points to secure free air travel or stay at nice hotels worldwide as their top benefit of using reward cards," Damon said. "Other important benefits include fraud alert and protection, complimentary airport lounge access, access to VIP events and experiences, car rental privileges, car rental collision damage waivers, accident insurance, roadside assistance, and TSA airport precheck, just to name a few."
Action Steps

What's your best strategy in securing an optimal card deal? Rewards card experts advise taking these action steps.
Get the full picture. Card consumers should be looking for a comprehensive rewards credit card that that offers the following features, Damon said.
Great benefits

A lucrative sign-up bonus

Great travel partners that you can transfer your points

The ability to accumulate at least two points per every dollar spent

A low spend to access the points

No international travel fees

The value of the points earned are competitive with other reward card programs. 
"All reward points values are not created equal," Damon said. "Not only should you be able to justify the annual fee if any, it's also advisable to avoid credit cards with low sign-up bonuses and little to no usable benefits."
Aim for rewards you actually use. When launching your hunt for a great rewards credit card, look for rewards that will actually benefit you. "If you travel a lot, air miles are great," Ty Crandall, founder of Credit Suite, a credit services firm that caters to business owners. "For example, if your business doesn't involve travel, then air miles will not benefit your business."

Also, avoid rewards card features that require you to spend money on goods and services you wouldn't otherwise use. "Don't buy things you do not need just to earn rewards," Crandall advised. You don't need a rewards card that offers major points on dining if you rarely dine out."

Pay attention to spending caps. Many rewards credit cards are structured to pay out for the first few thousand dollars spent. "Yet after a certain dollar point, the rewards are cut way back or they disappear altogether," Crandall noted. "So, in addition to looking for rewards, you will actually use, be sure you find a rewards cap you can stay under. 
"For example, if you only earn five-times points up to $6,000 in a year and one-times points after, but you know you will spend well over that amount, look for a rewards card that allows you to earn the higher points for longer periods of time," Crandall said.
Ask the right questions. Card consumers should ask credit card providers about their interest rates. Damon advises asking these questions before signing on the dotted line.
Is there a penalty for paying your credit card bill multiple times per month?

What are the annual fees?

How many points-per-dollar do I earn on the things I spend the most money on per month?

Am I able to transfer a credit card balance from another card with no fees?
Lastly, be creative. If you're just starting out with a rewards credit card, think of how you'll use the card in real life terms, and use your full imagination to do so.
"For example, think of a dream vacation you want to take and work backwards," said Alex Miller, founder of Upgraded Points, a travel site that steers consumers to the best deals. "Figure out who flies there and what hotels are there. Additionally, get a grip on specific rewards credit cards and figure out how may points those cards can accumulate using those airlines and hotels that on your dream trip."
The Takeaway on Choosing a Rewards Credit Card
Good due diligence and thorough research is needed to land the best rewards credit card.
"The goal is to create a rewards structure based on where you spend, with a rewards card that provides tangible benefit that you can really use," Miller said. "That's what you want from a rewards credit card."
[1] https://www.creditcards.com/credit-card-news/fee-survey/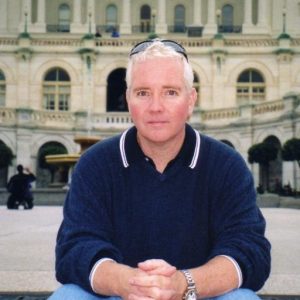 Brian O'Connell has been a finance writer at TheStreet, TheBalance, LendingTree, CBS, CNBC, WSJ, US News and others, where he shares his expertise in personal finance, credit and debt. A published author and former trader, his byline has appeared in dozens of top-tier national publications.
Our Articles:
Recent Articles:
Compare Personal Loans