Should You Take Out a Personal Loan to Travel?
As more Americans look to get out of town, a big travel experience seems like a great idea.
The problem, in most cases, is paying for it.
Case in point: A two-week trip to Italy (in the summer of 2021) for a couple can cost over $4,000. Add two children, and the cost can rise over $7,000. A trip to Japan this summer offers similar pricing, and will likely cost even more if you want to experience the summer Olympic Games.
With prices so high, some travelers who are long on wanderlust but short on cash may be considering a personal loan to cover a big travel package cost. Is that a good idea?
"Travel is about finding wonderful experiences and creating lifetime memories," said Adrienne Sasson, a travel specialist at Rubinsohn Travel, in Jenkintown, Pa. "In that context, taking personal loans or using low interest rate credit cards to fund a 'special travel occasion' or 'bucket list dream travel' is not a new concept."
Sasson says she's seen many young brides and grooms funded their destination weddings using lower interest rate credit cards or personal loans to pay for their expenses.
Yet where that vacation is taken is the biggest factor in deciding how to pay for the trip.
RELATED: How to Get the Better Personal Loan Rates
In dollar terms, a borrower's credit score can have a significant impact on household finances in general, and loan and credit outcomes in particular. Data also shows the better your credit score, the more money you can borrow with a personal loan, if needed.
In comparison, the lower your credit score the more you'll pay for a personal loan – if you can even qualify for one.
"My clients usually find when planning their weddings in Mexico or the Caribbean the cost is much less and therefore worth paying the low interest on a card," Sasson said. "Even when planning a wedding in a European or Mediterranean destination, personal loans come into play."
Making the decision easier are new payment options like "travel now, pay later" that more major tour operators are using. "These operators offers programs with small down payments and 24 months to pay off the travel debt, similar to furniture and appliance stores," Sasson said.
Pros and Cons of Taking a Personal Loan Out for Travel
Before you take out a personal loan to fly the friendly skies, know the realities of doing so – good and bad.
These factors can make that decision making easier.
Pros of taking out a loan
Better interest rate. Personal loans can be a better deal than credit card cash advances because the interest rate is usually lower. "Also, unlike a credit card, you usually don't have to pay any interest on the personal loan until you're late on a payment," said Martina Rosado, founder at Happy Travel Mag, an international travel blog.
RELATED: Is a Credit Card Cash Advance a Good Idea?

Flexibility a key. Personal loans can also be used for purposes other than travel. "Just because your travel plans have been disrupted doesn't mean that you can't use the funds for something else," Rosado said. "Just know you'll have to figure out how to repay the loan."
Cons of taking out a loan
No avoiding interest rate payments. You're going to have to pay interest on a personal loan, no matter how high your credit score. "With interest, your trip is going to be more expensive than just the sticker price," Rosado noted.

The entire loan has to eventually be paid off. Once your trip is over, all you'll have left is the memories and a potentially large personal loan debt. "If you can't afford it today, you may not be able to afford to pay off the loan later on," Rosado said.  
Tips for Travel-Related Personal Loans
The key deciding factors in taking out a personal loan are your personal financial situation and your ability to properly handle debt.
"Whether a loan is a sensible move comes down to your personal financial situation," said Mikaela Anne Ferguson, founder of the travel website Voyageur Tripper. "What existing debt do you have? What financial responsibilities do you currently have? Also, will you have an income source at the end of your travels? These are the questions you need to be asking."

Ferguson has taken loans out for travel, but a great deal of thought (and timing) went into her process.
"For example, when I took my loan, I didn't have a mortgage or dependents, I didn't have any existing loans and I had a job lined up for my return," she said. "You don't need to meet all of those criteria, but you do need to ensure you don't put yourself in a toxic financial place."
By and large, Ferguson only recommends taking out a personal loan to travel if you're currently in control of your finances and if you fully understand the terms of your loan agreement.

"Currently I have a revolving line of credit that I use to finance my traveling," she said. "Ahead of a trip, I'll take out the amount I think I need (usually between $1,500 and $3,000 but sometimes up to $8,000). After the trip, I set up an automatic payments to pay down the line of credit."
Ferguson said that seeing a balance on her line of credit provides an anxiety jolt, which makes her motivated to pay the debt down quickly.
"I've found this method easier than saving for a trip because it has discipline built into it," she added. "That's important, as you don't need to fear debt – but you need to find a system that works for you and your unique financial goals."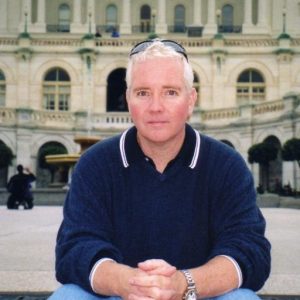 Brian O'Connell has been a finance writer at TheStreet, TheBalance, LendingTree, CBS, CNBC, WSJ, US News and others, where he shares his expertise in personal finance, credit and debt. A published author and former trader, his byline has appeared in dozens of top-tier national publications.
Our Articles:
Recent Articles:
Compare Personal Loans