Surviving  Financial Distress with a New Side Hustle
Working "outside" the traditional employment system may feel unnatural to Americans who are struggling financially from pandemic-induced lockdowns, but increasingly, many U.S. adults feel like they don't have a choice.
Maybe that's why the "side hustle" is rapidly becoming a benchmark income-producing strategy for a stressed-out populace.
Approximately 45 percent of working Americans report having a side hustle in 2020, according to Bankrate [1].
"If you're struggling to make ends meet even after tightening your expenses and looking for ways to earn more at work, a side hustle is a natural next step," said Nick Loper, founder of Side Hustle Nation, in Livermore, Cal. 
According to Loper, the average side hustle brings in $1,100 a month (although the median is much lower, at $200). "But when money is tight, every extra dollar makes a difference," he said. [2]
What You Need to Know When Preparing for a Side Hustle
Before you take up the mantle of a professional freelancer, it's best to know what you're getting into first. Take these experts tips with you before side-hustling toward a more lucrative financial future.
All side-hustles aren't the same – not even close. Side hustles can be incredibly effective in bringing additional income, but not all side hustles are created equal. 
"Some have higher earnings potential but take longer to ramp up," said Biron Clark, founder at Career Sidekick, in Wichita Falls, Tex. "Others may be more limited in the long-run but require less investment upfront and/or start bringing income sooner. So these are the pros and cons you need to consider when choosing a side hustle for yourself."

Emphasize the need for speed. Clark, who earns $25,000 monthly with various side hustles, advises newcomers to take on side hustles that heat up in a hurry.
"Service-based businesses like consulting, coaching, freelancing, or even lawn care, driveway cleaning, and dog walking, for example, tend to ramp up faster and cost less to start," he noted. "Whereas, product-based businesses tend to be slower at the beginning and often cost more to start." 
Leverage the professional skills you already own. Clark is a big advocate of side hustles, especially if you can identify a way to use existing knowledge and skills.
RELATED: Breaking Bad Financial Habits
"For example, if you learned a skill in your full-time job but were laid off, it's possible you could use that skill to begin consulting and earning a part-time income from home."

Clark said he's done the same on his own. "After working as a job recruiter, I began blogging about what I had learned about the job search process, and the blog eventually passed my job income and became my full-time business," he said.
If you have the time, lay the groundwork first. Scott Hasting, co-founder of BetWorthy, a sports gambling software company, said the pandemic hit his business hard. "Consequently, I had to start freelancing on Upwork (a freelance content job site website.) Now, I'm earning up to $1,000 a month from freelance writing."
While learning a side-hustle is highly doable, it all depends on where your interests lie and your level of dedication, Hasting said. "That said, there's no such thing as a free lunch, so don't buy into quick cash schemes because they simply don't exist," he noted. 
Keep plugging away. For Hasting, launching a side-hustle takes time and effort.
RELATED: How to Budget Your Money
"When I started content writing on Upwork as a way to pay off my expenses, I had to do research, figure out the different professional writing styles, and wait for a week before I got my first gig," he said. "Therefore, side-hustler's need to understand that a side hustle is going to take a little bit more time and effort than you had expected before."
Commit to an investment. Even when you're up and running, you have to invest in your side gig.
The most important part of preparing for a side hustle is realizing the time commitment," said Scarlett McKnight, a blogger and side-hustler at ThirtyEight Investing in Wichita, Kan. "If you choose to do something like tutor a child that is on virtual schooling, this may take a few hours a day or a week. But if you want to start a YouTube channel, blog, or become a social media influencer, this can require a significant amount of prior research, equipment, and time over a few years."
Think creatively. McKnight, who has repaid $50,000 in student loans via side hustles, has a few fresh ideas for freelancers who are just starting out. 
"My favorite "quick cash" hustles (that require almost no experience) include:
Updating furniture by buying from garage sales or Facebook Marketplace. "Many pieces are findable for free and most pieces can take up to four hours to refurbish," she said. "However, you can sell items for $100 or more within two days of purchasing the original item, which makes this a good option for quick money. This effort requires you to have the time to pick up the furniture, the time to paint, and the money for the materials."

Assisting the elderly. Join a Facebook group for your town or city and post that you can help with groceries, chores, yard work, or deliveries for the elderly. "You can charge per hour or per service," McKnight said.
Neighborhood chores: This gig also works if you belong to a Facebook group for your neighborhood, or if you have the NextDoor app. "Post that you can do services for your neighbors, like yard work, taking garbage to/from the sidewalk, or cleaning gutters," McKnight said. "Charge for a single-time fee or set up a subscription option for recurring income."
RELATED:
Overall, it's absolutely possible to create a full-time income from side hustles. 
"Just realize that each side hustle option comes with its pros and cons regarding the opportunity for long-term profits," McKnight said. "You can create a YouTube channel with five hours a week and within a year be monetized and earn a recurring monthly income that can generate full-time income over a few years of consistent effort."
"You could also create a small company with the services that you provide in your local town," she added. "The key is consistency. Without consistency, your occasional efforts negatively distance you from the competition."
[1] https://www.bankrate.com/personal-finance/side-hustles-survey-june-2019/
[2] https://www.sidehustlenation.com/side-hustle-statistics/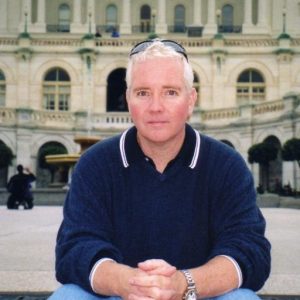 Brian O'Connell has been a finance writer at TheStreet, TheBalance, LendingTree, CBS, CNBC, WSJ, US News and others, where he shares his expertise in personal finance, credit and debt. A published author and former trader, his byline has appeared in dozens of top-tier national publications.
Our Articles:
Recent Articles:
Compare Personal Loans