5 Reasons to Get a Personal Loan
When you need to borrow money, there's a lot to like about personal loans. They are less expensive than credit card cash advances, and much cheaper than payday loans. In addition, personal loans don't require you tie up collateral the way home and car loans do. Your monthly payments, loan term, and interest rate are fixed, making it easier to budget the loan. With all of these pluses, the question becomes one of knowing when personal loans make the most sense. What follows are five sensible reasons to apply for a personal loan.
1. Debt Consolidation
You didn't plan it this way, but somehow you find yourself making multiple loan repayments on credit card balances, store cards, and other debt. Consolidating this debt is a great way to simplify your monthly payments and perhaps reduce your interest costs.
If you decide to consolidate your debt, your options include a personal loan and credit card balance transfers. With the latter, you obtain a new credit card that offers an introductory 0% APR balance transfer promotion running from 6 to 18 months. You then transfer your existing card balances to the new card, paying a fee (usually around 3%) for each transfer. As long as you repay the total transferred
amount before the promotion expires, you'll pay no interest on the balance.
Balance transfers are a reasonable way to consolidate debt, but very often personal loans are better.
Here's why:
Balance transfers only work on credit card debt. Personal loans can consolidate multiple forms of debt – indeed, you can use the proceeds from a personal loan however you want.
Balance transfer promotions seldom extend beyond 18 months. That might not be enough time to repay your entire balance given your budgetary constraints. Personal loans can give you a much longer repayment term, making them more affordable on a monthly basis.
Typically, you need a good to excellent credit score to qualify for a credit card with a 0% APR balance transfer promotion and a sufficiently high credit limit. You may find it easier to qualify for a personal loan that meets your requirements for loan amount and monthly repayments.
Your credit score depends on several factors, including your credit utilization ratio (i.e., credit used / credit available). Both consolidation methods can decrease your CUR and thus boost your credit score. However, a balance transfer strategy that maxes out the credit card's credit limit can negatively impact your credit score. That's not a problem with a personal loan.
2. Home Improvements
When it's time to remodel your home, your first thought might be to take out a home equity loan or home equity line of credit. That's not a bad idea but it's not always feasible. If you don't have a lot of equity in your home (i.e., current market price – mortgage balance), a home improvement  loan probably won't yield enough money to do the job. In addition, home loans are riskier than personal loans since you can lose your home if you default on a home loan. Personal loans are unsecured, meaning the lender does not have a lien on your home should you default on the loan.
RELATED: How to Get – and Best Use – a Home Improvement Loan
3. Financial Emergencies
If this year has taught us anything, it's that financial emergencies can happen any time. They might stem from sudden expenses such as medical emergencies, funeral expenses, job loss, and so forth. Personal loans can offer you a convenient lifeline to get through a financial emergency. They are a good choice because personal loans are usually quickly disbursed. They are also much cheaper than credit card cash advances, and you may qualify for a larger loan amount than that available from a cash advance (which is constrained by your unused credit limit).
RELATED: How to Build an Emergency Fund
4. Life Events
Planning a big wedding? You probably don't want to deplete your life savings to finance it. A personal loan is just the ticket, because it gives you an upfront distribution of the money you'll need without dipping into your retirement account or emergency fund. The same is true for many other life events, such as the expenses involved in moving to your first home because a baby is on the way. Or perhaps you want to finally use your accumulated vacation time for a fancy (i.e., expensive) trip abroad. A personal loan can finance a vacation to a dream destination that would otherwise be out of reach.
5. Big Ticket Purchases
You may be facing some hefty spending for appliances and other big-ticket purchases if you are moving to your first home or are hit by household disasters. Sure, you may be able to finance the purchase on a credit card or two, but sometimes you'll need more than your credit limits will allow. Rather than exhaust your card credit limits, you may prefer a personal loan that allows you to do all the required
purchasing at the same time without weighing down your credit cards.
This list of reasons to obtain a personal loan is far from exhaustive. When the need to borrow money arises, you just may find that a personal loan is the best alternative to address your unique circumstances.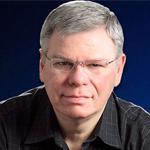 Eric Bank is a business and personal finance writer who has been featured in Credible, Wisebread, CardRates, Zacks and many other outlets. He holds an M.B.A. from New York University and an M.S. in Finance from DePaul University.
Our Articles:
Recent Articles:
Compare Personal Loans